New construction homes are proving popular for many San Diego homeowners and are a great option to consider in a market with low inventory. Construction slowed during Covid but is beginning to get back on track with many new homes set to be released for sale in North County soon.
Here's an update on some of our favorite new build communities.
MERGE 56 - Torrey Highlands
Great news! Work is well underway on San Diego's new Merge56 development with properties leasing and for sale now.
Camino Del Sur is now fully paved going into Park Village. The new road extension is set to open this summer, although no dates have been given yet.
MERGE56 is a new construction, walkable community in Torrey Highlands. This mixed use development includes townhomes and single family homes, set amongst great amenities, shopping restaurants and entertainment. There will also be office space. With easy access to I-5 and I-15 and part of Poway Unified School District the community is highly desirable.
111 new townhomes will be available for lease, expected Fall 2022. At this time, prices are not known but you can register your interest here. There are 4 plans available, with 3-4 bedrooms ranging in size from 1,100 square ft to 2,300 square ft.
Arlo, by Lennar homes, is a community of new, 4-5 bedroom single-family homes located in Merge56. Homes are selling now and start at $1.7m. Find out more here. If anyone is interested in this community, we highly recommend you contact Lennar directly as they no longer cooperate with real estate agents. We would LOVE to help you SELL an existing home in San Diego (and beyond!) in order to buy here.
3Roots
3Roots in Sorrento Mesa is an innovative new construction master plan community with a focus on sustainability, healthy living, and connectivity.
The community is linked by parks, paseos, and miles of pedestrian and bike trails, providing outdoor gathering and recreational spaces. Residents will have access to a fitness and recreation center as well as retail, restaurants and cafes - all within walking distance.
There are actually three home builders here: Lennar, California West, and Shea Homes offering condos, townhomes, single family homes, bungalows and villas. Demand is strong and when the builders broke ground, they said more than 14,000 people expressed interest. Two hundred homes will be released this year and they're planning for 1800 homes by 2025.
Each of the 10 neighborhoods, and the Fitness and Recreation Center are in various stages of construction. Click here for a birds eye view of the site. Register your interest here for release dates and sales information. Many homes are selling now and range from the high $700s to $1.7m.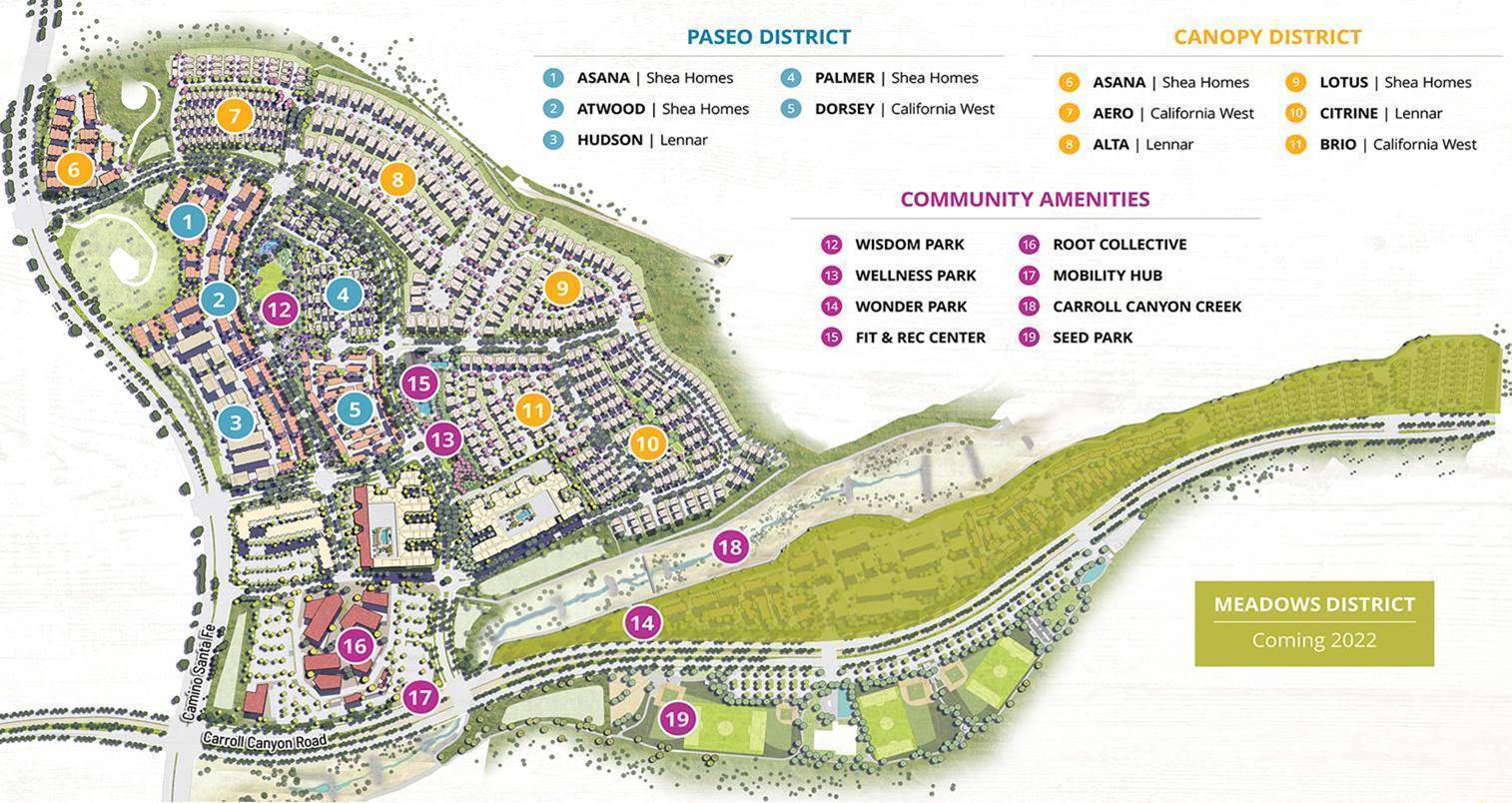 The Junipers - Rancho Penasquitos
This exclusive 55+ community is being built on a former golf course site in Rancho Penasquitos to the west of I-15. It will include a mix of single-family homes and townhouses for sale as well as 81 rental homes for low-income seniors households. Find out more about the community here.
The project was approved by the San Diego planning commission in April 2021 and unanimously approved by the San Diego City Council on June 15, 2021. In response to the approval a local resident action group filed a lawsuit to block the development over fire safety concerns. We will keep you posted on how this plays out.
Lumen - Pacific Highlands Ranch
Built by Shea Homes, Lumen is a community of upscale rowhomes, just a short walk from the Village of Pacific Highlands Ranch Center.
Choose from 5 floor plans, offering 3-4 bedrooms, 2 car garages, all with beautiful modern spanish architecture. A limited number of the rowhomes at Lumen will be "shopkeeper" units, offering a storefront on the first floor with gorgeous living space above it. Prices start at $1.07 with phase 4 of the development in presale. You can register your interest here
Contact us to talk about all things Real Estate! We would love to help you figure out your best course of action in this market.