A LOT can happen in a year. And that applies to the San Diego Real Estate Market.
This time last year, the market was insane with low inventory and buyers scrambling to find a home. Bidding wars were common with homes receiving multiple offers and selling in a few days.
Fast forward to today and you will see a completely different picture. With higher interest rates, coupled with rising inflation, the buyer feeding frenzy has calmed with affordability becoming an issue for many. This has led to more homes on the market, which are taking longer to sell.
The expected time to sell has increased from 18 days in March to 67 days today. However it's important to take a breath and look at this with perspective. It's still a sellers market. Sellers can expect to largely call the shots, but don't expect multiple over asking price offers. You WILL sell but it won't be instant.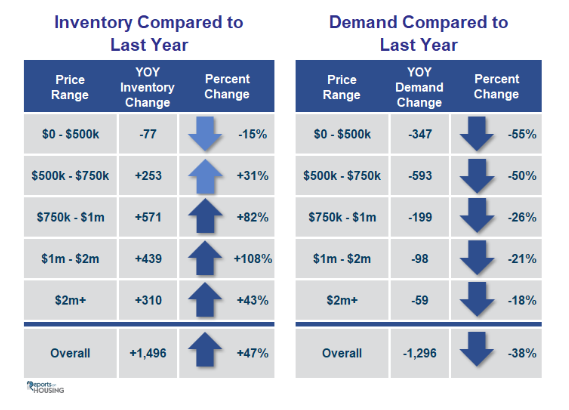 The biggest change is that buyers are much more focused on pricing. Overpriced homes have become common in San Diego. Almost 35% of homes available today have reduced their asking price at least once. It's important to note that these price reductions are NOT indicative of a drop in home values. Instead, it shows that a large number of sellers have not responded to the market change and have priced outside of fair market value.
SELLERS BEWARE - Overprice your home and you will languish on the market, so finding the right strategy to sell your home is more important than ever. Check out our blog on why pricing your home correctly is vital for success. Carefully arriving at the Fair Market Value is crucial. We can help you with this. Fair market value is the sweet spot , giving you more viewings, more potential buyers and a quicker sale. Homes that are upgraded, in great condition, and priced well will fly off the market.
So what happened?
The bottom line is the rising interest rates. We started 2022 with rates at 3.25% climbing rapidly to 6% in June. Affordability is an issue for many and buyers have stalled, waiting to see what happens. If you are thinking about selling, don't wait. The longer you do, the slower and more challenging the local market will be. Right now, the market is still strong. Find our why here.
So what about buyers? Inventory has also climbed and increased by an incredible 47% compared to last year - an extra 1,496 homes. Great news if you are looking for a deal. Sellers will be more willing to negotiate and you are less likely to get caught in a bidding war.
Thinking about selling or buying a new home? Confused about what to do? We would love to help. Reach out and contact us here. Also take a look at an excellent blog by Team Kolker's, Heather Pomeroy Wendlandt, who lays out some excellent strategies on how to navigate today's real estate market.