Don't fall for the click bait news. What we are seeing on the ground is something very different to what is being reported. Times are changing! The San Diego housing market is heating up as we head through Winter and into Spring.
Compass CEO, Robert Reffkin spoke about this recently on CNBC. Many markets around the US are seeing a notable shift in mood and activity this January. And this reflects our experiences in 92127 and beyond.
"For the first time in 10 months, all the statistics I look at are trending positively." Compass CEO Robert Reffkin, CNBC
He gave six reasons why he believes Q4 of 2022 was the bottom of the recent real estate market cycle:
1. 25% increase in weekly mortgage applications.
2. Mortgage rates continue to move down to a 4-month low.
3. Increase in buyer interest, open house traffic, and offers.
4. In the last quarter of 2022, 42% of sellers were giving concessions to buyers at the closing table, a 10-year high.
5. Home builder sentiment improved for the first time in 1 year.
6. Pending closings were down 30+% at points in the fall but over the last few weeks, we have seen pending listings in most of our markets nearly flat year over year.
So what's our experience in 92127 and beyond. Well after only 6 days on the market, we sold 16054 Bedford Hill at $1,525,0000, which is $25K more than the model match in August! I bet you're scratching your heads wondering how we are selling for more in TODAY's Market? Glad you asked....
When we took this listing on, we knew that remodeled homes sell the best in today's market and that buyers seem somewhat allergic to asking prices these days! Armed with this information, we set proper expectations with our seller and set a reasonable asking price based on comps and condition. But pricing is only half of the battle.
These particular sellers had already remodeled this home to today's standards, but needed to declutter and stage to really let it shine! They spent a busy week decluttering and spent about 5K-7K in staging, paint touch up, cleaning, and deferred maintenance. These homeowners had the funds to front these costs. However, many of our clients take advantage of our brokerage's Compass Concierge program that fronts all costs to prepare a home for the market (including staging)! When the home closes escrow, the brokerage is paid back, interest free, out of the proceeds. This allows the seller to do what is needed to maximize the sales price in today's market, without taking on additional stress. We find that most clients spend between 5k-10K on their home prep (to paint, stage, replace lighting, etc).
After Bedford Hill was market ready, we had it professionally staged and took stunning photos during sunset to really make the Kristin Glen Park views pop. The result was a very busy open house weekend that resulted in 4 offers in the first few days! One of the neighbors commented that they had not seen an open house that busy in months. And yet…the home sold for $25K less than asking price. We are often record breakers, however buyers still have some fear and trepidation right now. In this case, the sellers of Bedford Hill saved way more on the house they purchased than they would have imagined (there are 2 sides to every coin), and they got a great sales price for the condition of the market in December. (Traditionally the slowest time of the year)

So what's happening now?
After the holidays the housing market quickly heats up and transitions to the Winter Market where demand surges higher, inventory grows, and market times drop.
Regardless of the wider economic situation, without fail, the housing market heats up from mid-January to mid-March. This time last year saw a white hot market with record low inventory and high demand from buyers and homes selling instantly with multiple offers.
It's foolish to compare the 2023 market with last year's insanity. Instead we should look at the 3-year average before COVID (2017 to 2019).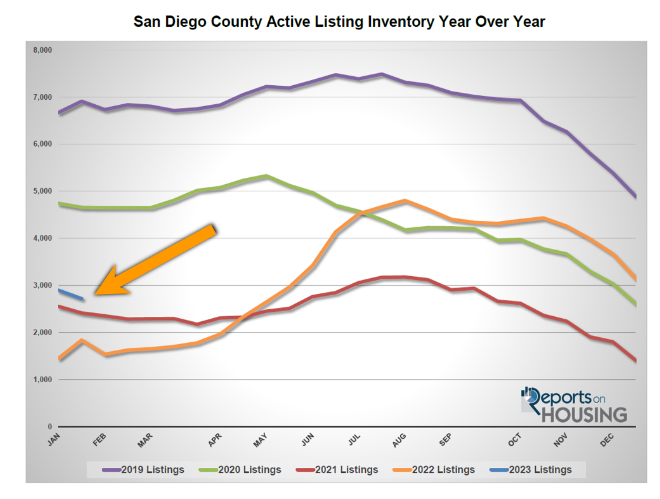 We are expecting this year to follow the trend and more homes to come on the market each month until the peak in May. Even with lower demand levels due to the higher interest rate environment, inventory will slowly grow this winter. Demand will increase substantially from now through mid-March. There will be more activity. More buyers will purchase, especially if interest rates continue to fall. The lower rates fall, the more demand will climb. Many buyers who stopped their search for a home during the holidays will be ready to resume their search again.
So, what is your home worth NOW?
Well, the actual market price of a home is how much a buyer is willing to pay that a seller will accept, regardless of what comps say. That being said, we're now seeing an uptick in buyer demand, and rates are predicted to come down further some time this year. Spring home sales often get incredible sales prices in 92127, when school registration is around the corner, and when you can still rent back your home until the end of the school year.
Want to find out more? Give us a call. We would love to chat it out with you.