It's not just couples that dominate the San Diego housing market. Did you know that women have been second only to married couples as home buyers since data collection started in the early 80's?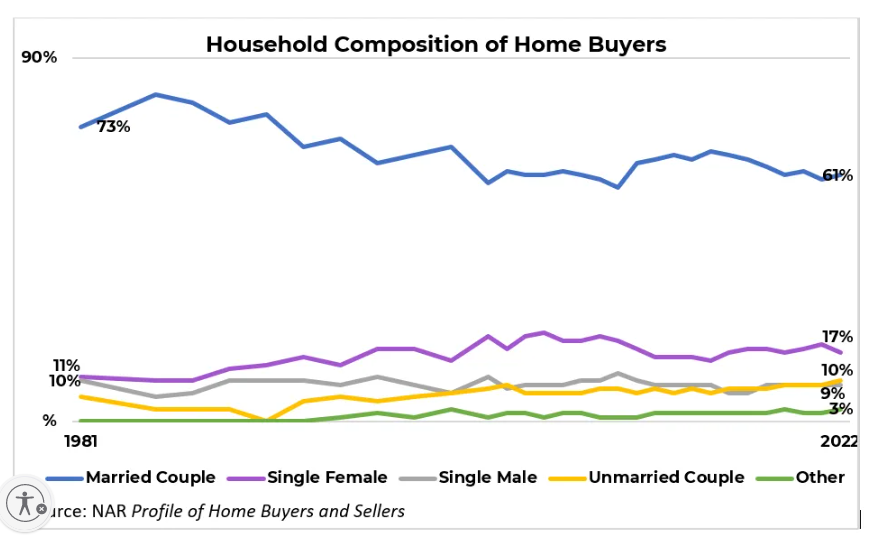 And did you know that up until 1974 women were NOT permitted to obtain a home loan with a co-signer. Thankfully this changed when the Fair Housing Act's halted "sex" discrimination in housing-related transactions.
Despite this leap forward single women still face some significant hurdles to home ownership. Women still earn around $10,000 less than men, according to the US Census Bureau. This wage gap can make it harder to save for a down payment or afford a mortgage payment on a single income.
However in recent years the number of San Diego single women buying their own homes has increased and out paced single men.
So why are more women buying homes than men?
The latest data shows single women make up 18 percent of the market compared to men at just 9 percent. Both men and women are most likely to say they are purchasing for the desire to own a home, but significantly more women purchase to be close to friends and family. They may be buying following a divorce, becoming widows or as savvy investors, banking on their futures and busting inflation by investing in real estate.
Overcoming the hurdles
While single women may be more likely to be homeowners than single men, that doesn't mean buying a house is easy. Here are some tips to help women to start women on their journey to home ownership.
Save, save, save.
The most important thing you can do as a single female buyer is to save for your down payment and get your credit in order. Carefully plan so you're not overwhelmed by payments. Know how much you can comfortably afford, factoring in your current and future lifestyle. Be mindful of recurring costs such as HOA fees, insurance, property taxes, and maintenance fees, which can add up to a sizable amount. Get pre-approved. Having a pre-approval letter from your lender will give you an edge when making an offer.
Know your rights.
It's illegal for a lender or seller to discriminate against you based on gender. If you think you've been the victim of discrimination, you can file a complaint with the U.S. Department of Housing and Urban Development (HUD) or with various local housing and human rights commissions.
Do your research.
Before you start looking, make sure you have a good understanding of the current market and what kind of home you're looking for. We would love to chat this out with you. Consider your budget, location, and other factors that can affect your decision. You will want to find a neighborhood that has great schools if you have children and one that you feel safe living in. Again, please reach out to us. We know the local market and can help you find a neighborhood that works for you, your budget and your unique family situation.
Ultimately, for San Diego single women, buying a home can be an empowering experience and an investment that can reap big rewards long-term. Have questions? Let us know? We would love to help you with your home buying journey.