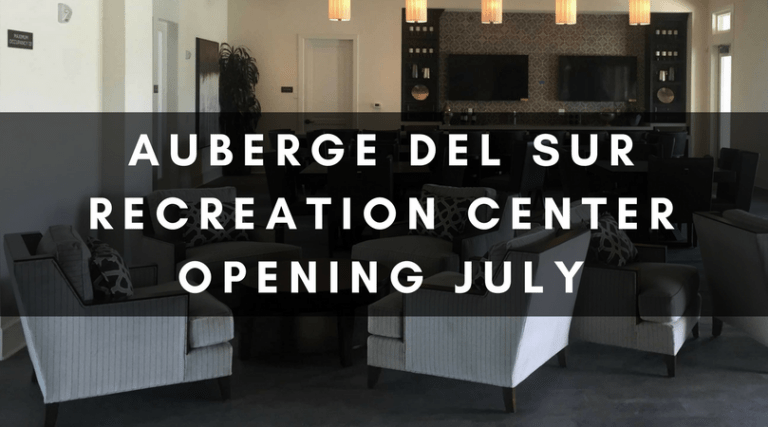 THE WOW FACTOR
Auberge Del Sur, San Diego's newest 55+ community, has practically blossomed over night! "The Club" (recreation center) has furniture in place, gym equipment is in, and CalAtlantic is working hard on the pool. It is truly one of a kind, with gorgeous meeting rooms, an expansive library, an impressive exercise studio, high ceilings and abundant stylish decor. There is plenty of room for a variety of activities, and it looks like they will have a lot of those planned!

ARE YOU ON THE LIST?
After SIX sold out releases, they finally had a small break in the June 18th release. Many, but not all, homes were sold that day. Prices have risen, due to high demand, while it should also be noted that some pricing reflects more builder optional upgrades. This was due to tight timelines of upgrade selection dates and sale dates.
FAST FACTS
Lowest priced home in all of Auberge is now priced at $631,900
Most expensive home,

now priced at $1,095,900 (pricing continues to increase every phase)

There are about 400 people on the priority list eligible to purchase
Home releases now happen via phone (no more stressed out, anxiety-ridden prospective homeowners clumped together waiting at a live release)
Next release: Wednesday June 28th (this will be 8th release)
The majority of homes will close escrow by December 2016
Homes sold in the first sales release close escrow this week!
YOU'RE IN!
It is NOT too late to sign up to be on the priority list. Have us accompany you on your first visit there for our new construction vs. resale expertise. Our numerous Auberge clients who have already bought a home are happy they were able to have local residents with new construction experience representing them.
WORD TO THE WISE
Do not be intimidated by the amount of people on the priority list. At this point, some will be priced out and there are always those who drop off or decide to buy elsewhere. The number of sold out releases was unprecedented for CalAtlantic, but every new construction community slows down on sales at some point. Once fully completed homes are not sold, this is where we help you negotiate.