SO MUCH ROOM FOR ACTIVITIES!
Michelle and Danielle got a sneak peek behind Artesian Ridge to check out the NEW Artesian Estates opening this August in Del Sur, San Diego. Besides HUGE lots and glorious views, these homes are going to delight even the most critical of buyers. The layouts and amenities look like they are going to be nothing short of amazing in these gorgeous CalAtlantic luxury homes.
A MODEL HOME FOR MODEL HOMES
Modeled after CalAtlantic's past brain child, The Estates, these homes will features large floor plans, conscious room separation, and grand layouts. Not sure what all that means? Well come see it for yourself! These homes will be starting in the high $1 Millions, up to 5,687 sq/ft, with both one and two-story residences available with five separate floor plans. The North Collection will be in the same gated community as Artesian Ridge, directly across the hill from the South Collection, located across from Auberge Del Sur, San Diego's premier 55+ community. The majority of the homes will be in the North Collection, though the South Collection will have higher elevated views, and even larger lots (judging by the map!).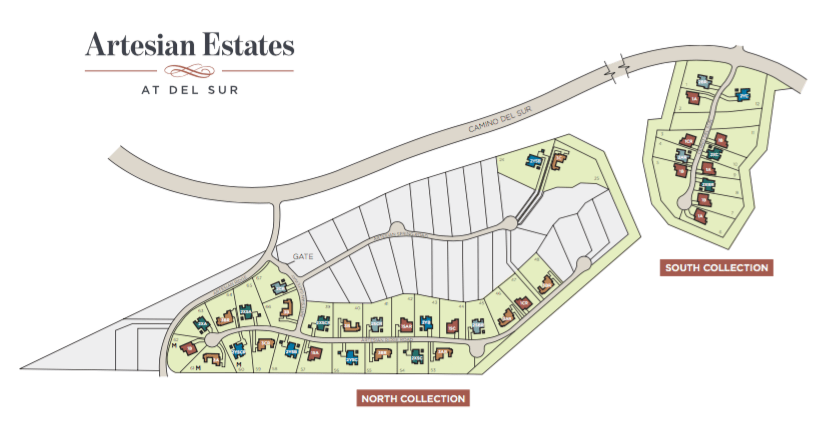 WHAT ABOUT THE SCHOOLS?
Artesian Estates is the LAST community of Del Sur homes eligible for both Del Sur Elementary AND Design39Campus, as well as Oak Valley Middle School and Del Norte High School. This is a huge advantage over some of the other spacious lots nearby with Rancho Santa Fe addresses. These lots are some of the largest available for these award-winning Poway Unified School District schools. Want to see where they are on our one of a kind map of the area? Check them out under "Custom Homesites" (we are changing the name as we speak!) Click here to see The Boundaries Matter Map.
FIELD TRIP!
Artesian Estates opens to the public next month, and sales for these exclusive 39 homes begin shortly after. There is a LOT to learn in a very short period of time if you are considering one of these homes. We have represented new construction buyers in many of CalAtlantic's 92127 communities, and we have learned SO MUCH along the way. It can be overwhelming when it is your first time, and having someone that exclusively represents YOU makes a huge difference!
Did you know that when you buy a home, you sign a form specifically stating that the CalAtlantic sales rep you work with represents CalAtlantic, not you? This is the #1 reason to take a real estate agent along with you the FIRST time you visit the community. CalAtlantic is VERY strict about their requirement that your agent accompany you on your FIRST visit to their communities. There are many advantages of having someone advocate for you, and only you. Kolker Real Estate Group is well equipped to handle questions that could arise explaining the new construction vs resale in the area. Having an experienced team by your side makes all the difference, and doesn't change the price of the home in ANY WAY. In fact, you're more likely to save money!
LET ME UPGRADE YA
These homes are PERFECT for the home owner who has a good amount of equity built up in their current home and is looking to move up, or OUT of an older, large home. Fill out the form below to get in touch right away and make sure to check out the Kolker Real Estate Group Facebook page for new information as we receive or experience it.