*This article was written by Danielle Balestra, the Marketing Manager for Kolker Real Estate Group
THE STORY
Two awesome married couples I know have recently bought their first homes, both purchases close to $1M. If you're like me, you're thinking "whoa, they have their stuff together", and they do, but there were some key similarities between both purchases that raised some questions. What I realized is that some home purchases are not only because of awesome buyer's agents, sometimes you need to thank the not-so-awesome seller's agent.
WHAT SHOULD WE DO TODAY? LET'S BUY A HOUSE!
The first couple was not really looking. It came as a surprise when they both found themselves googly eyed over a huge house in Del Cerro. The house was beautiful, the property well manicured, but it was slightly over what they knew they could afford. It had been on the market for over a year, but it was also one of the only properties of it's size in the area. Long story short, they put in an offer at their max purchase price (under the asking price by a good amount) and were told not to hold their breath. Three days later, after one counter offer and a lot of crossing fingers, they were in escrow. They moved in at the beginning of June and are super excited to start filling it with memories.
The second couple is my inspiration for this post. They had been looking for OVER a year. I've listened to their struggle to find just the right home, and felt their frustration when rising interest rates lowered their purchasing power. I would often send photos or listings when I saw something of interest to keep their hopes high, but after months of seeing little to no multi-unit homes available in their desired neighborhood, I too was getting discouraged for them.
THANK GOODNESS FOR BAD AGENTS
I say that with every ounce of sarcasm I contain, but today I realize how thankful some clients should be. While listening to my friend explain why their close of escrow date changed so much, I started sympathizing with their agent (otherwise know as the "Seller's Agent"). The listing agent, representing the seller (I know, confusing), was taking inordinate amounts of time to get back to their agent, making mistakes on the contract and more issues which is caused the delay in their purchase and frustration for all (including the seller, who he was supposedly advocating for!)
I look at her and while shaking my head I say "Wow, that sucks!", but without hesitation she quips back,
No, I'm so glad the listing agent is an idiot, that's the only reason we got this house! It should have sold for WAY more, but he had no clue how to sell it!
So there I was, metaphorical jaw dropped. She was so right! If not for horrible, no good, very bad agents, she and her husband most likely would not own the house they are so excited about. Ok – maybe he wasn't that bad, but what he lacked in preparing, staging, photographing and marketing the home, cost his seller's definite moolah.
My friend also explained that the agent was a friend or relative of the seller, and that's when it all came together.
THREE SIMPLE RULES OF SELLING
Can I be completely honest? There are so many "should dos" of selling, but there are three major things I've been seeing people get wrong time and again:
Don't use someone as a favor. Just because cousin Mo has his license and will do the deal for 1%, doesn't mean he's the best fit for your sale.
Marketing is a MUST. I don't even know how to stress this enough without jumping through the computer to shake you. There are so many components of Marketing that the average agent usually does not understand or put time into. (Check out this blog to see our process for a reference point!)
Don't be bought. Some agents will tell you what you WANT to hear your home is worth and not what you NEED to hear. Once you sign and the home doesn't sell, they will lower the price till it does and you will be left feeling bamboozled. This is called "buying a listing".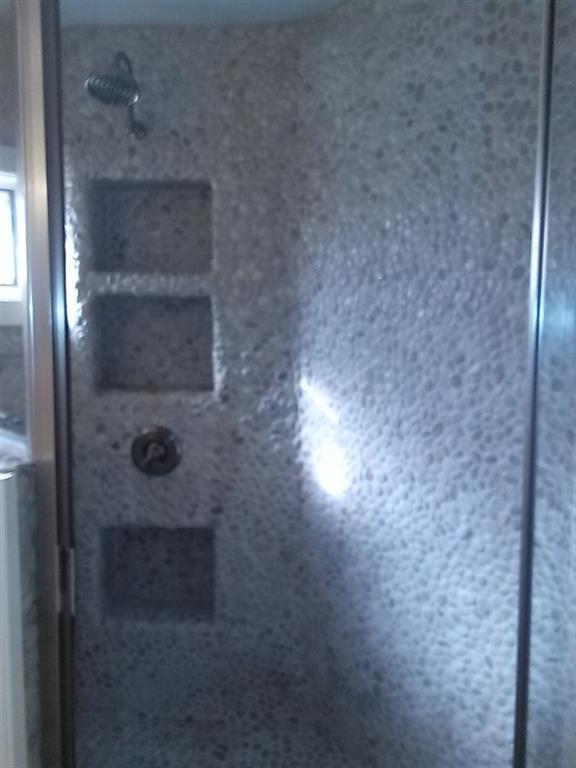 Actual photo of really cool custom shower in a spacious bathroom… but you'd never know!
WHO STOLE MY $150,000?
The moral of this whole story is that my friends both got a steal-of-a-deal because the listing agent on the other side did not do a good job. Had those homes been priced right and marketed well, they could have been sold for hundreds of thousands of dollars more. YES, hundreds of thousands of dollars. Just for fun, I estimated the one couple saved about $150,000 based on comparable homes in the neighborhood along with the fact that the listing lacked a sufficient description and photos. On the other side of that, the seller potentially missed out on $150,000.
If you want the confidence and peace-of-mind that comes from having an experienced agent and a licensed Attorney on your real estate team, click the button and get in touch.
CONTACT TEAM KOLKER