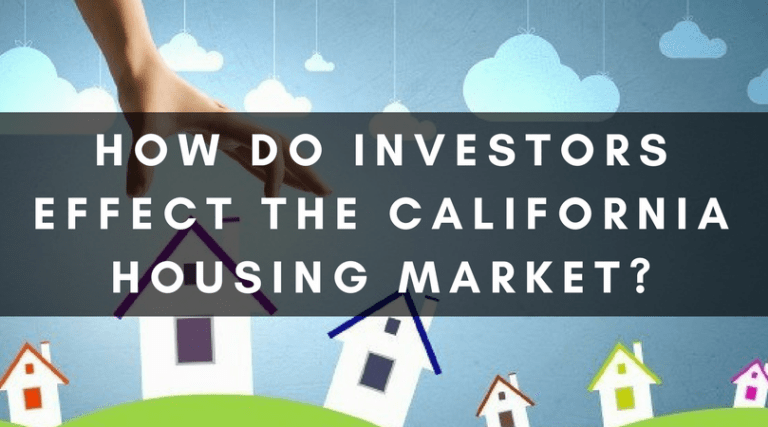 We've all heard that there are investors scooping up available properties in California, so what does this mean to the average person buying in California?
FACTS
Right now the California Association of Realtors (CAR) reports residences in California being 40% rented and 60% owner occupied. There are fewer distressed homes which has been on a decline since 2013. Given the lack of inventory – 70% of investors are currently purchasing single family homes in 2016 – down from 78% since 2013. Investors purchasing multi family also declined to 19% (2016) down from 21% 2015.
SO WHAT DOES IT MEAN?
(Deals) have become harder to find – California has gotten more competitive, driving up purchase prices. There are multiple offers on listings, with purchase prices exceeding the list price, and the days on market reduced, meaning houses, when priced right, are selling quicker.
LOCATION, LOCATION, AND ROI
There are 5 key factors that investors have in mind when looking for a property:
Location 38%
ROI 30%
Good Price 17%
Future Development potential 6.9%
Size 6.6%
Luckily for the average buyer, investors have been looking into more niche properties instead of the traditional single family home and planning on renting them as much as 19% higher than last year's rental prices.
Commercial
Mobile home parks
Medical buildings
(Check out this great article on why San Diego is one of the hottest spots for investment real estate.)
DO I WAIT?
Looking at the historically low interest rates, locking in a low long term payment and tax deductions is a hedge against the housing market. With property values nearly doubling every ten years (over the past 50+ years) and owners staying 8+ years in their homes, waiting may not be the best option for most.
Many people think they are priced out of the market and won't qualify for a loan, but the opposite is often true. Rates and property values are predicted to increase at around 4 – 7% over the next year, and demand is continuing to outpace supply. Knowing your financial power is key. Speak to a reliable lender about your goals to find out what's right for you.
THANKS INVESTORS
Sometimes we have a feeling that investors are just going to swoop in and take all the "good" homes, but in all reality, we could say "thank you". Investors have helped weather the storm of the housing market and rejuvenate properties into homes the consumer would WANT to purchase and live in.
THE KOLKER DIFFERENCE
Facts are facts… there's a lot of competition out there and getting a home in San Diego is not an easy task these days. That's why it takes experience, perseverance and a strategy to help buyers in this market. Give us a call (or shoot us a text!) to start a conversation about your buying or selling needs: 858-229-6173