Ever watch that cute Disney movie Chicken Little? He is convinced the sky is about to fall. Well read some of the media reports and you would think just that. That the San DIego Real Estate market is about to come crashing down sometime soon.
Here's the real deal and it won't drive newspaper sales or link clicks. Despite what some reporters will try to convince you, the sky isn't falling. The headlines aren't painting the full picture.The recent market changes are a normal adjustment. Gone are the post pandemic days where we saw market insanity with homes going for way over asking price. Today homes are priced fairly - at true market value.
How do we know this?
From our experience in the unique micro market of 92127 and beyond. We have sold homes for our San Diego clients in just a few days. Homes are selling. Our experience shows a remodeled home will sell faster than a dated home. Buyers don't have the appetite to carry out extensive renovations.
Wondering what you need to do to your home prior to sale? We can help you decide what renovations will work best to sell your home quickly and command top dollar.
Don't fall prey to the national clickbait news. Do the research yourself and look at the data. San Diego has a thriving economy and job market. Apple is coming to town in 92127 and with it high paying jobs.
The number one reason why a crash will not occur is that there simply are not enough available homes to purchase. Today's housing stock is built on an extremely strong foundation with years of tight lending standards due to financing laws enacted after the Great Recession, strong credit scores, large down payments, fixed rate mortgages, plenty of nested equity, and limited cash-out refinances. There is no crash in sight because of the strength of the homeowner coupled with a very limited inventory of available homes to purchase today.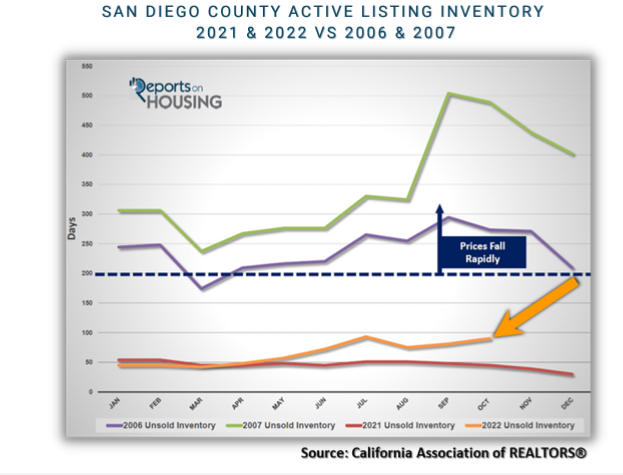 What about home prices?
While home prices are down slightly month-over-month in some markets, it's also true that home values are up nationally on a year-over-year basis. The graph below uses the latest data from S&P Case-Shiller to help tell the story of what's actually happening in the housing market today.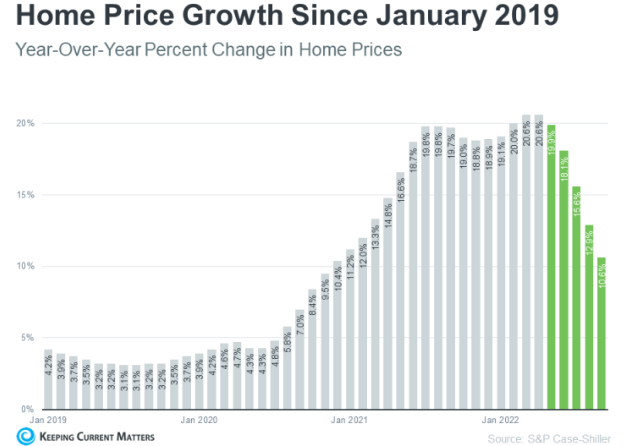 As the graph shows, home price growth has moderated in recent months as buyer demand has pulled back in response to higher mortgage rates. This is what the headlines are drawing attention to today. HOWEVER, it's important to note the bigger, longer-term picture. While home price growth is moderating month-over-month, the percent of appreciation year-over-year is still well above the home price change we saw during more normal years in the market.
While you may not be able to capitalize on the 20% appreciation we saw in early 2022, in most markets your home's value, on average, is up 10% over last year – and a 10% gain is still dramatic compared to a more normal level of appreciation (3-4%).
Why should I invest in real estate?
Home ownership remains a solid investment. Rising mortgage rates defined the 2022 housing market, and it's no surprise why. This year saw the largest increase in mortgage rates in over 20 years, sidelining many potential homebuyers. Today, interest rates have shown signs of moderating, and as inflation concerns ease, experts predict this will continue.
Reach out, we would love to chat this out with you.