2022 was a crazy year for real estate.
In May, the market shifted from its post pandemic insanity to a new 'normal'.
After two years of rising home prices, the Federal Reserve stepped in to halt rising inflation, using the housing market as one of the main economic engines to achieve its objective.
Federal Funds Rate increased from nearly 0% at the start of the year to 4.5% in December, its highest level since 2007 and its fastest rise in more than 40 years.
Mortgage rates responded accordingly, rising from 3.25% at the start of the year to over 7.25% in October, more than doubling. They eased below 6.5% in December as inflation numbers began to improve for the second consecutive month. Yet, inflation remains high. The Federal Reserve's inflation goal is 2%, so they have a long way to go.
So what's in store for 2023?
The overall United States economy has remained resilient backed by a very strong labor market, lots of job openings, low unemployment, and increasing consumer spending. Yet, the high interest rate environment has been rocking the financial markets. Federal Reserve policies could instigate an economic recession in 2023 that will most likely begin by mid-year. As a result, the San Diego housing market is going to stay subdued in 2023, especially in the first half of the year.
However this does not mean it's going to crash so don't expect significant price decreases. Sellers went through a large adjustment this spring and summer, so prices that you see now are pretty darn reflective of recent comps and today's prices.
Here's the thing: Herd Mentality is preventing buyers from seeing the market for what it is today: A great time to make an offer on their terms! Rates will decrease and sooner than you think. This is literally an opportune moment in time to buy.
We have seen this story before. Low rates = increase buyer demand + no inventory = pricing pressure and good news for sellers.
Don't fall prey to the national clickbait news. Do the research yourself and look at the data. San Diego has a thriving economy and job market. Apple is coming to town in 92127 and with it high paying jobs.
When you buy real estate, you are curbing inflation (your mortgage payment doesn't increase unlike RENT), you have an appreciable asset, and in 5-10 years, if you want to sell, you'll have done well for yourself plus you'll have a home to call your own in America's finest city!
You can find out more about this in our latest blog.
What are the numbers?
Inventory remains low. We start this year with around 2,800 homes for sale, the third lowest start to a year since tracking began in 2012.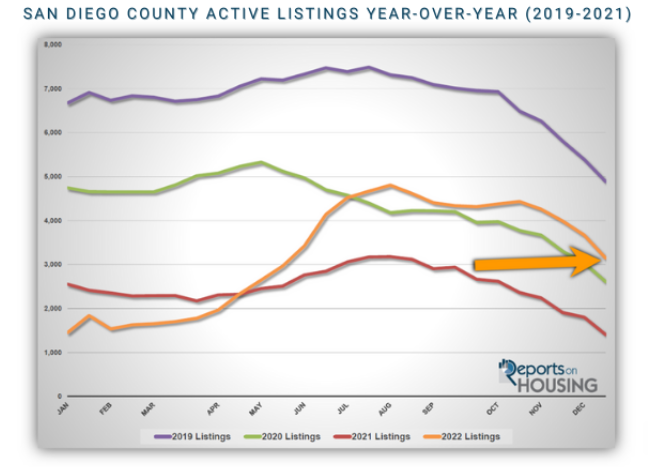 Only the start of 2021 and 2022 was lower with 12% and 55% less respectively. Prior to COVID, the average start was 5,270. The inventory crisis will continue. Expect inventory to rise on the back of diminished demand, only to be hampered by the "Hunkering Down" effect where homeowners opt to stay in their homes due to their underlying low mortgage rates. Read our blog on hunkering down on what this means for you as a buyer and seller.
More homes will enter the market once mortgage rates drop below 5.5%, most likely sometime in mid-2023. Expect the active inventory to peak around August eclipsing 6,000 homes, well below the over 7,500 home peak average prior to COVID.
Due to the persistent high mortgage rates, buyer demand will continue to be muted. With less competition and pressure on affordability, buyers will be extremely cautious and unwilling to stretch above the asking price. They will expect to pay fair market value.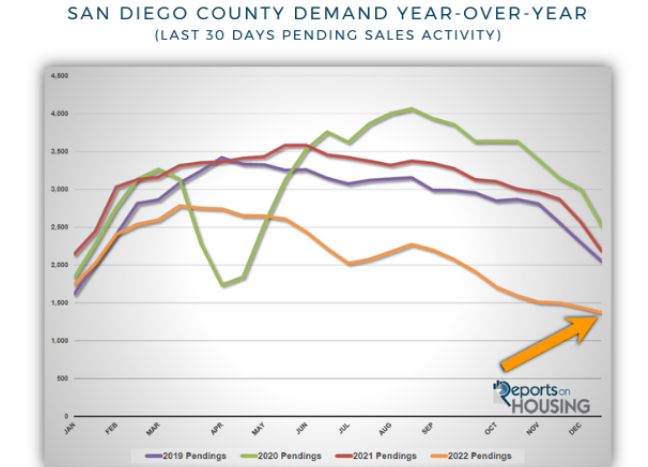 There is a strong potential for mortgage rates to dip below 5.5% by the summer due to the combination of a slowing economy and falling inflation. With lower rates, demand will strengthen along with affordability. The combination of lower rates and lower home prices will prompt a rise in sales.
What we are starting to see is the normal housing cycle. The strongest demand coupled with the highest levels of new sellers will occur during the Spring Market. This will be followed by slightly less demand and a continued new supply of homes in the Summer Market. From there, demand will drop further along with fewer homes entering the market in the Autumn Market. Finally, all the distractions of the Holiday Market will be punctuated with the lowest demand of the year and few homeowners opting to sell.
The bottom line
2023 will continue where housing in 2022 left off, sluggish. The housing market is no longer insane, homes are for the most part not selling above their asking price, not selling immediately, not selling with multiple offers, and there is far less activity and buyer competition.
Have questions? Please reach out. We would love to chat this out with you.
SOURCE: San Diego County Housing Report