When you're in the market for a new place to live, it helps to remember the golden rule of real estate: You're not just buying or renting a home, you are also becoming part of a neighborhood.
All neighborhoods are not created equal and there's no such thing as the perfect neighborhood. Everyone has different wants and needs. You will want to match prospective neighborhoods to your requirements.
Here's some of our top picks based on schools, crime rates, cost of living, amenities and our own personal experiences and opinions.
Del Sur and 4S Ranch



We love this area so much that we live here! 4S Ranch is a master-planned community in North County San Diego. Although homes and businesses here have San Diego addresses, 4S Ranch is 25 miles away from downtown and is within the coveted Poway Unified School District. Residents of this affluent neighborhood enjoy a community garden, several parks, dedicated open space, shops and restaurants, a medical center, great -community schools (including the wonderful Design39C), sports leagues, community groups and other events.

Del Sur is also a great neighborhood with awesome amenities - In fact, there are eleven pools and fourteen parks located within the community. Del Sur was designed to accommodate many residents, as there are retirement homes, condos, apartments, duplexes, single-family homes, and even luxury estates all located within the same community. There are lots of walking trails with amazing views of the surrounding canyons and Black Mountain. The community gets together with festivals, wine tastings, movie nights and much more for local residents to enjoy. Best of all, is access to award winning local schools.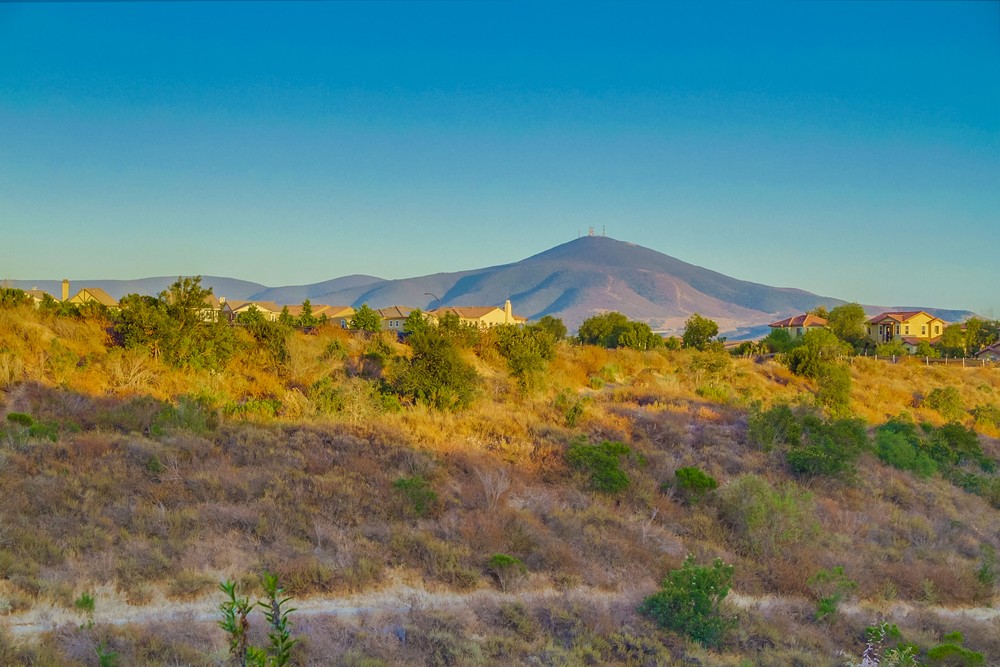 Both of these communities are extremely sought after and are well known for being safe, family-friendly communities. With easy access to Route 56 and Interstate 15 it's a great area for commuters. Homes are built with Shelter in Place construction, which is designed to keep homes safe from the wildfires that are all too common in this part of the state.
Median home value - $819,000
School rating - A+
Del Mar Mesa
Del Mar Mesa is a neighborhood in San Diego County that has been rated as one of the best places to live in California. Living in Del Mar Mesa offers residents a dense suburban feel and most residents own their homes. It has more than 900 acres of preserved open space protected habitat and 10 miles of hiking, biking, and riding trails. The schools are highly rated and there are a lot of coffee shops and parks and the beach is a short drive away. Crime is extremely low and the community is diverse. However property prices can be costly. With easy access to the freeways this is a great choice if you plan on commuting.
Median home price - $1.11m
School rating - A+
Torrey Hills
Torrey Hills is a fabulous place to live if you have a family or are planning one soon. With low crime rates, a diverse community and excellent public and private schools nearby it's the perfect spot to raise your family. Torrey Hills is bordered to the north by State Route 56 and to the west by Interstate 5. This makes it attractive for commuters. The beach is a short hop away and in summer the area enjoys a cool sea breeze and amazing sunsets. Enjoy plenty of nearby open spaces, local shops and restaurants.
Median home price - $1.21m
School rating- A+
Data on median home price & school ratings provided by niche.com ( Niche ranks thousands of places to live based on key statistics from the U.S. Census and and expert insights.)